Elena Isinbaeva's New World Record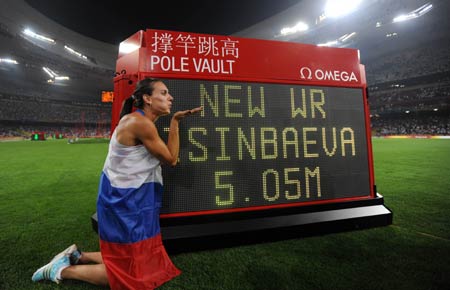 Incredible.
She continues to amaze; not only has she taken yet another Olympic gold, but she has also broken yet another world record.
Nothing seems to stop Elena Isinbaeva from breaking records. Not even the supposedly 'polluted' air over Beijing; she broke yet another record yesterday - her own, no less - clearing an unbelievable 5.05 metres at the women's pole vault finals.
I first saw her in action (and consequently became a fan) during the 2004 Athens Olympics. What caught my eye initially was her extremely long (relatively speaking), braided hair then as well as the small, gold St Olga cross around her neck (ah, athletes from Orthodox countries!).
Almost all the competitors I grew to admire at the last Olympics have since retired from their respective sports. Elena however, continues to reign supreme.
Strong and resolute, she is an inspiration to us all!
"The sky is my only limit," she said. "Life would be boring without records to break so I want to continue on forever."

Isinbaeva murmured before each attempt, she decoded the murmuring, "Do it, do it, just do it. Just be confident, I'm OK."

-
Sina.com, 2008-08-19 03:16:43 GMT
And for those who have not yet seen, or wish to watch that exciting moment again:
Labels: Asia, Celebrities, Quotations, Russia